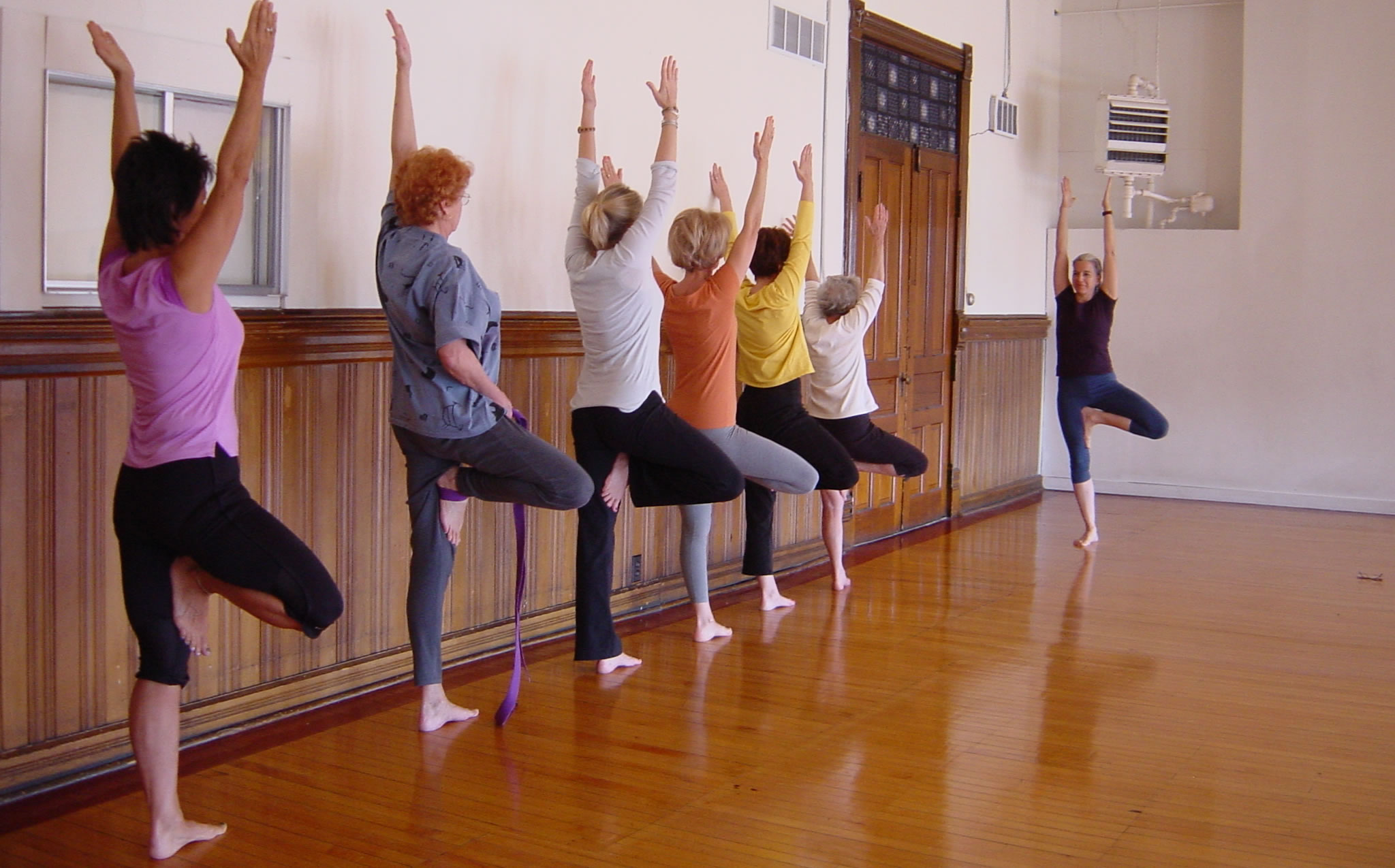 Welcome to North Woods Yoga!
Want to try a class? You do not need to be flexible to do yoga, the asanas (specific stretches sometimes called poses) are taught in safe easy to follow steps so that you feel stable and are able to breathe freely. You are welcome to work with your back to the wall for extra support. The poses are often broken down into stages that are easy to pause in and build up experience slowly. Like a landing on a staircase, from there you can go to the next stage or exit the pose the same way you went into it. This builds a firm foundation of knowledge in your body and improves balance, strength, and concentration, and promotes mindfulness. The poses are repeated often in the beginner classes to help you reinforce and develop your skills. This also allows you to practice them safely on your own. (Handouts are provided).
You don't have to know anything to begin and you can purchase a single class before you commit to buying a package of classes. If you have health concerns be sure to advise me in an email before class.
Classes bought in packages can be used for any beginner class. Current classes bought for Zoom do not expire as long as the program continues (and so will be good well into next year) and can be used if and when classes resume in person.
Zoom classes in session show each person in their space, so Mary can see your pose and help you with the general instruction. If you don't want to be seen, you can turn your video off, you will still see Mary.
Recordings of classes are made available to the students in that class for 30 days and some students purchase the video classes if they cannot attend. Viewers of the video only see Mary instructing, not the thumbnails of the other students. In rare cases permission may be asked to highlight a student to show something to other students but this is not done in beginner classes.
Helpful equipment to take class at home:
Yoga Sticky mat (if you buy one and its slippery, send it back)
1-2 yoga blocks (wood or hard foam)
2-3 blankets of wool or cotton that can be neatly folded to make a firm rectangle
1-2 yoga belts, cloth belt at least 6 feet long with an adjustable buckle
A stable armless chair
A blank wall is very helpful
You are much more visible to the camera if you are against a well lit, light colored wall, but whatever you can manage is fine.
If you don't want to be seen, you can turn the video icon off on your zoom.
Optional: yoga bolster
Attire: Avoid very baggy pants as it is hard to see what your legs are doing to give personal instruction. Clothing that is the same color as your background makes it hard for Mary to see your outline. For traction and safety, work in bare feet on a mat or a non-slip surface.
If you have questions call me at (231) 526-5041 and leave a good time to call you back or email me at maryreilly36@gmail.com
Learning yoga is a fun adventure! Iyengar yoga instruction is easy to follow, and will build your balance as well as your power of attention.
Mary